Zagreb, Croatia » Entertainment » Shopping Centres
The range of cuisines and an award winning repertoire of restaurants make Zagreb the gastronomic capital of the country. You could go on exploring the subtleties of different delicacies and enhance your palate in Zagreb. Choose from an international assortment of cuisines from Japanese sushi to the traditional Croatian Peke cooking. The very high budget restaurants come with elegant interiors, good service, and tasty yet precisely controlled portions of food. In contrast, the mid budget and low budget ones may not boast of 'chic' interiors, but offer good food at fair prices.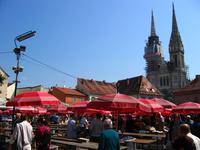 Dolac Market ( Wikipedia )
Every week on Friday and Saturday, at the north of Jelacic Square, Dolac opens up to a farmers market where you can buy fresh food, fruit, and vegetables. Opened in 1930, it is Zagreb's oldest open air market and one of Europe's best. The market is divided into three levels: the lower levels sells meat, cheese, olives and herbs while the upper level sells fruit, vegetables, plants, and textiles. Fish and cheese products are sold in a different space.
Address: Dolac bb, Zagreb 10000, Croatia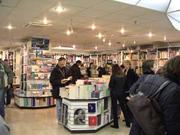 Algoritam ( Visit Site )
Located off the Trg Josip Jelacic square, Algoritam is a bookshop known for its wide variety of books, magazines and multimedia articles. Along with Croatian language books, it also stores a wide selection of English language books which instantly attract any foreign tourist. Other than English and Croatian, the shop does happen to have books in French, German and Italian.
Address: Harambašiceva 19, Zagreb 10000, Croatia
Tel.: +385 1 2359333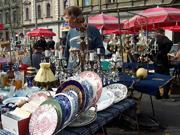 Antique Market ( Wikipedia )
Every Sunday, the Antique Market on British square welcomes a huge numbers of antique dealers and buyers who love to invest in coins, chandeliers, World War relics, and furniture items. Whether you decide to shop or not, this market is a lovely place to spend your Sunday morning. Bargaining is necessary at the market to get a good deal. However, if you are not ready to risk your money over buying street side antiques then visit authentic shops such as Antikviteti, Miroslav, Tischler, Starine i umjetnine, Katedralni antikvarijat Mesaric Damir and Jesenski i Turk.
Address: British Square (Britanski trg), Zagreb 10000, Croatia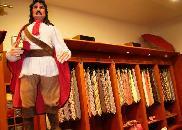 Croata ( Visit Site )
Croata is a one of a kind store when it comes to men's neckties. It is said that the original name of the father of all neckties 'cravat' came from the Croatian word "Croat". So explore the amazing world of neckties at Croata, choosing between colour, price and patterns.
Address: Salon Croata, Kaptol 13
Tel.: +385 1 4874944
Address: Salon Croata, Ilica 5 (Oktogon)
Tel.: +385 1 4812726
Address: Salon Croata, Av. Dubrovnik 16 (shopping centre AVENUE MALL - 1st floor)
Tel.: +385 1 6398900
Address: Salon Croata, Zaprešicka ulica 2 (shopping centre WESTGATE)
Tel.: +385 1 6398916
Address: Salon Croata, Lanište 32(shopping centre ARENA)
Tel.: +385 1 7772715
Address: Salon Croata, Radnicka cesta 52 (shopping centre GREEN GOLD)
Tel.: +385 1 6441695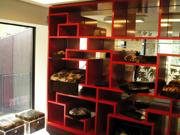 Gharani Štrok ( Visit Site )
This high-end boutique located in Zagreb is the brainchild of Nargess Gharani and Vanya Štrok who specialize in prêt-a-porter fashion clothing. They have their boutiques in Zagreb and London and their women's clothes also sell in London's Debenhams. Now, the duo has also ventured into interior designing and maternity wear.
Address: Dezmanov Prolaz 5, Zagreb, Croatia
Tel.: +385 1 4846152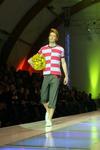 I-GLE ( Visit Site )
If you are one of those daring people who don't mind experimenting with clothes, then visit I-GLE, a shop that specializes in high-end yet extravagant fashion. Situated just a few streets away from Gharani Štrok, the tailoring of garments is precise and the designs are imaginative yet unconventional. So both men and women step out of the box!
Address: Studio: strossmayerov trg 7, Zagreb 10000, Croatia
Shop: dežmanov prolaz 4, Zagreb 10000, Croatia
Tel.: Studio: +385 1 4813280, Shop: +385 1 4846508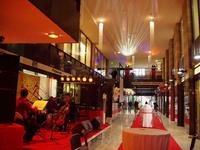 Kaptol Centar ( Visit Site )
Just a few minutes away from Zagreb Cathedral and Josip Jelcic Square, is Kaptol Centar, the city's best known shopping mall. Expect to find luxury boutiques, supermarkets, cafes and a Movieplex cinema. If you are short on time, a visit to the mall should suffice your shopping needs.
Address: Kaptol Centar, Nova ves 11, Zagreb 10000, Croatia
Tel.: +385 1 4860 241
Enoteka Bornstein ( Visit Site )
If you want to buy Croatian wine, Vlado Borošic, the store owner, is a superfast guide to learning about all the wine labels of the country. The shop racks also contain a wide range of exquisite truffles, honey and olive oils, making Enoteka Bornstein a multipurpose one stop shop to buy distinctive souvenirs in Zagreb.
Address: Enoteka Bornstein, Kaptol 19, Zagreb 10000, Croatia
Tel.: +385 1 4812361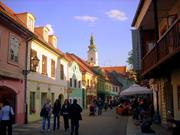 Radiceva Street
Radiceva Street near the main city square offers more than just the Stone Gate attraction. There are many small shops lined up the street which sell souvenirs, paintings and antiques. One of them is Širok which is known for its traditional Zagreb offerings. For ladies shopping a visit to Kathy Balogh is a must. There are numerous jewellery and shoe shops nearby to complete your look.
Address: Radiceva Street, Zagreb 10000, Croatia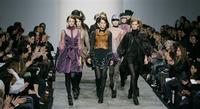 Victor ( Visit Page )
Victor is a fabulous concept store that offers only rare and one-of-a-kind products to its loyal customers. If you adore high end fashion clothing from international designers, fragrances and home accessories, you shouldn't miss out on this one.
Address: Kralja Držislava 10, Zagreb 10000, Croatia
Tel.: +385 1 4572921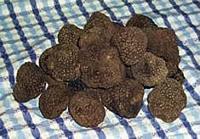 Zigante Tartufi ( Visit Site )
Zigante's shops in Zagreb are just the place to have a taste of gourmet products and truffles in the city. The easiest one to access will be the one on Rotonda centre which is located off the Jurišiceva Street, a few minutes' drive from the Ban Jelacic Square. You get an authentic taste of fresh, Croatian truffles, Istrian wines, mistletoe rakija, biska and more.
Address: Jurišiceva 19, Rotonda centar, Zagreb 10000, Croatia
Tel.: +385 1 4817794