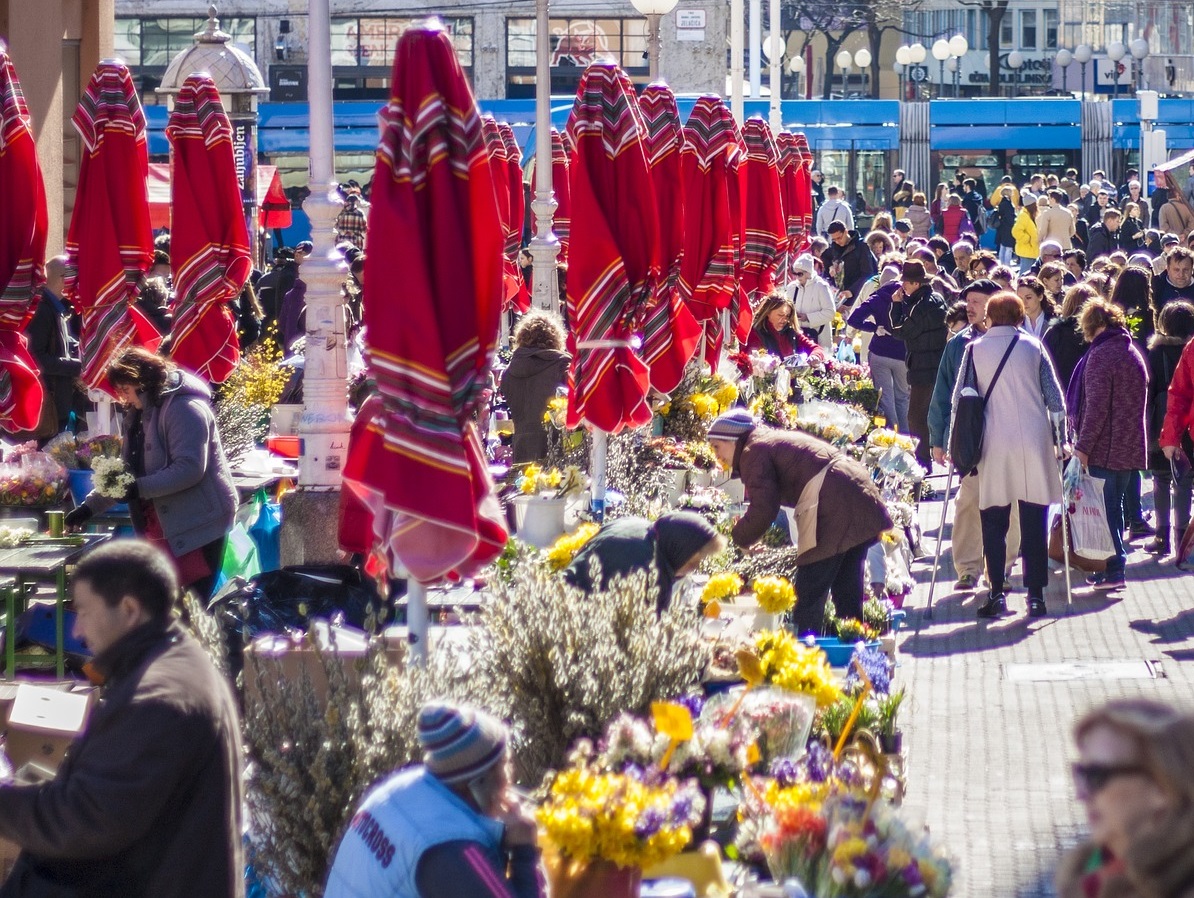 Roam through this vibrant Dolac farmers' market for a feast of the senses. The market is located near the town's main square, just a set of stairs away from Ban Jelačić, you'll find the place referred to by the locals as 'the belly of Zagreb'.
It gives you a unique opportunity to fraternize with the locals, to taste the best seasonal products from Zagreb and its surrounding towns and a chance to buy hand-made souvenirs at a negotiable price.
Zagreb's central open-air market brings together all the old women with small inventories of what they just pulled from their garden and larger vendors with bigger piles of seasonal produce.  Zagreb's bustling fruit and vegetable market have been central to trade since the 1930s when the city authorities set up a market space on the 'border' between the Upper and Lower Towns. Sellers from all over Croatia descend here daily to hawk fresh produce.
The Best Produce in Town
On the upper level, make your way through iconic red umbrellas, stalls brimming with fresh produce like fresh fruit and vegetables. You can spot head-scarfed locals selling free-range eggs and fresh, baked cornbread. Head downstairs to the covered market section, for your local charcuterie needs. You'll find butcher stalls, dried fruit stands, and artisanal sheep cheeses from Pag. It is loaded with vendor stalls, selling a variety of fresh cheese and produce from the neighbouring agricultural region Zagorje.
Make sure you don't miss the fish market off the north-west corner which is crowdy on Fridays and make sure you see all the cured meats, bread, dairy, and at the far back left the wine-by-the-litre salesman.  The stalls at the northern end of the market are packed with locally produced honey, oil, handicrafts and cheap food.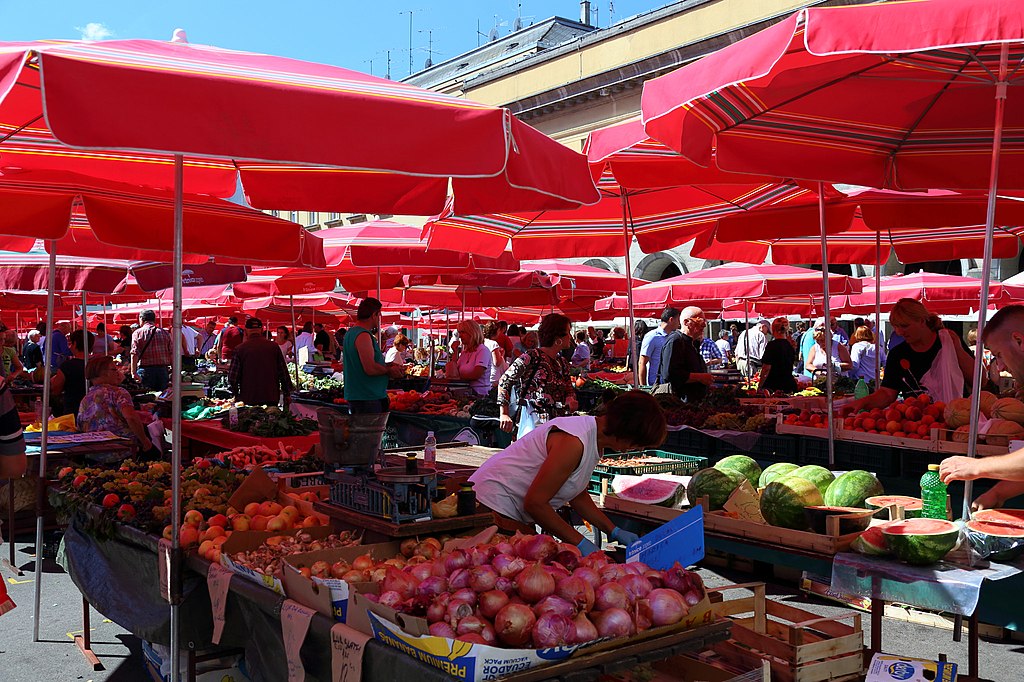 Credit: Jeronimo Alcala / CC BY 3.0
Timings
Market: 6.30am to 3.00pm from Monday to Saturday and up to 1.00pm on Sundays.
Upper outdoor market: 7.00am to 2.00pm from Monday to Friday, up to 3.00pm on Saturdays, up to 1.00pm on Sundays.
Dolac market is especially busy on Saturday mornings. The best time to go is early morning, just watch your heels when walking in front of cart-wheeling shoppers. On the weekends, grab a kavas mlijekom (coffee with milk) and a potato puff pastry from the corner bakery, Dinara, and head to the adjacent Ban Jelačić Square. 
On Saturday mornings you can witness špica, a spontaneous fashion show during which sidewalk patrons offer shameless finger-pointing and verbal critiques to dressed-up locals. This is the most famous, most visited and most colourful open-air market of Zagreb, but there are more than 20 markets in the city.